Nyonya Laksa
Nyonya Laksa is slightly different from other laksa, it has a twist of some herbs and finely sliced cucumber on top that add to a freshness into the laksa.
1. Poh Piah Lwee
Situated at end of Jalan Tun Tan Cheng Lock as you are making a u-turn to Jonker Street, is this little shop.
The Laksa is very rich in taste voted personally the best in town, meanwhile try out their poh piah, Vegetable wrap, as well as the rojak and nyonya 'chang' - glutinous rice dumpling.
2. Donald and Lily
They have shifted to Kota Laksamana. I personally find it too sweet (too much sugar?) to the taste.
Try out also their tau gua and nasi lemak, mee siam also nice.
3. Bess Kopitiam
Now there is a branch at Taman Melaka Raya same roll as the post office.
4. Jonker 88
courtesy of
kenwooi.com
courtesy of
meitzeu.com
5.

Nancy's Nyonya Laksa, Pai Tee, etc.
Situated in Tong Fang Coffeeshop/Food Court, 124 Jalan Temenggong, Melaka.
7:00am - 1:00pm closed Wednesday.
Courtesy of http://eatingasia.typepad.com/
6. Nyonya Laksa Recipe
Courtesy of http://www.pickles-and-spices.com/
Laksa Nyonya Melaka
---
Laksa Nyonya Melaka is influenced by Peranakan cuisine. Peranakan people are the descendants of a Chinese princess who married the Sultan of Malacca in the 15th century. They have their own unique tradition and recipes which are the fusion of these two cultures - Malay and Chinese. Generous amount of chillies used reflects this tradition.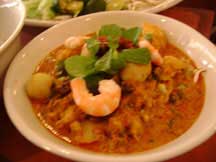 Spicy paste (grind to a fine paste):
200g onion
100g gelangal
50g fresh turmeric
50g belachan
2 lemon grass
5 candle nuts
30 stalks of dried chillies
60g dried shrimps
Gravy:
2 tbs cooking oil
1/2 chicken (cut into small pieces)
10 medium prawns
1 litre coconut milk
250ml water
6 pcs tamarind apple slices (asam keping)
3 stalks of ginger bud
Salt and sugar to taste
Garnish:
Cucumber, deseeded and sliced thinly
Red chillies
Spring onion
Boiled eggs
Method:
Heat oil and sautee spicy paste until fragrant and oil separates.
Add in chicken and prawns, cook.
Add in coconut milk and a little water.
Add in ginger bud.
Throw in salt and sugar to taste.
Serve with yellow noodles or rice vermicilli and garnish accordingly.